Super Slim 600 x 600 Modular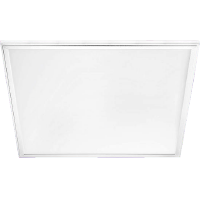 A super slim modular unit that will save your business money without compromising on light.
Coming in at an unbelievable 9mm thickness, the Ledlite Super Slim Modular fitting is ideal for the office environment. With an external driver the unit will easily replace your current system and you will begin to see the savings straight away. Each 50W panel generates more light than a conventional 4x20W fitting.
With a far superior lifetime and zero maintenance, you will soon see your lighting costs drop without any sacrifice in light output. We also have an emergency backup option available so you can make sure your staff have a safe exit in the event of an emergency.
Light output @ 4700lm better than a 2D 38 Watt (1300lm).
Technical Specifications
Length

595mm

Width

595mm

Depth

9mm

Voltage Range

220-240VAC

Rated Load

50W

Beam Angle

120°
Working Temp

-20° to +40°

CRI

>80

Lifetime

30,000hrs

Lumen

4500lm

Power Factor

>0.95

Guarantee

3 Years